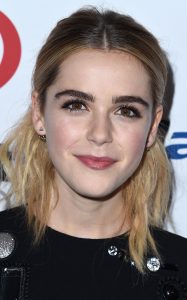 Hollywood star Kiernan Shipka had her career beginnings when she debuted with a 2-episode role on Monk in 2006. That same year, she had a role on the TV movie The Angriest Man in Suburbia. The following year, she had her first film role in Dimension, followed by an appearance in 2008's Lower Learning. From 2007 to 2009, she appeared in 6 episodes of Jimmy Kimmel Live! It was, however, her role as Sally Draper on Mad Men that made her a television staple, having played the part from 2007-2015.
Simultaneously, she had performances in the films Carrier and House Broken. She also voiced Jinora on The Legend of Korra. She continued her film career with roles in Very Good Girls, Flowers in the Attic, One & Two, Fan Girl, and The Blackcoat's Daughter. She next guest-starred in an episode of Unbreakable Kimmy Schmidt. In 2017, she portrayed B. D. Hyman on the FX series Feud: Bette and Joan. More recently, she stars as Sabrina Spellman on the new Netflix series Chilling Adventures of Sabrina. She also starred in the 2018 movie The Silence.
The 18-year-old actress tries her best to be a healthy eater. Though she's young and has plenty of food indulgences, she makes sure she has her cravings in moderation. So, what's her diet plan like? The actress shares her preferred meals throughout the day. For breakfast, she prefers an avocado toast. "Avocado with a squeeze of lemon, some salt, chili flakes, and pepper…it's kind of the perfect breakfast," said Shipka.
"For lunch, I'd definitely do sushi. For dinner, I'd have to go with French food. I typically go out to dinner with my family on weekends, and we usually all order something different so we can try a bit of everything. I would order the bouillabaisse," she added. She also admits to having a sweet tooth so her favorite dessert is "any kind of donut".