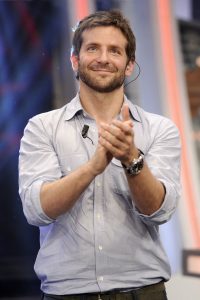 Bradley Cooper was named by People magazine as the Sexiest Man Alive in 2011. Prior to his international fame as a Hollywood actor, he began his career in one episode of Sex and the City, followed by his film debut in Wet Hot American Summer. In the 2000s, he was mostly prolific on television with roles on The Street, Touching Evil, and Jack & Bobby, though it was his portrayal of Will Tippin on Alias that brought him wider recognition. He also continued his career on the big screen but it was already in 2009 that he became a star courtesy of his starring role in the comedy film The Hangover, which he has since reprised in the sequels. With him climbing up the A-list limelight, he starred in major films, such as in The A-Team, Limitless, Silver Linings Playbook, American Hustle, and American Sniper, where his performance met with critical acclaim.
The handsome actor does not only have his charm to showcase but also his incredible talents. Thus, it is not surprising that he has reached this level of stardom in Hollywood, although it did take him a long time. That's why he's not only talented, but also persistent. Just like other actors, Bradley works on his physicality depending on the role that he needs to play in movies. Sometimes he's in comedy, romantic comedy, drama, and sometimes action, so it really becomes tricky when you have to make adjustments physically.
For instance, Bradley engaged himself in a more disciplined diet plan in order to play Navy SEAL Chris Kyle in American Sniper. Because his character in the film should be more bulky, the actor reportedly ate an astounding 8,000 calories a day. Although it seems a lot, basically it's not according to nutritionists. Balanced diet is still observed and complete three meals per day in addition to snacks are still part of the package. Breakfasy, lunch, and dinner should be healthy, though snack time could be spent splurging on desserts.