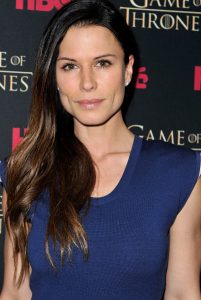 English beauty Rhona Mitra first came to prominence as a model, particularly as a Lara Croft model. After this gig, she realized it is acting she wanted to fully pursue, making her first significant role on the TV series Party of Five. She continued this with a notable role on The Practice, as well as on Boston Legal. Proving to be highly prolific on TV, she also played a remarkable role on Nip/Tuck. As a movie actress, she was first recognized for her performance in Doomsday and for her role as Sonja in Underworld: Rise of the Lycans. She returned to television recently with her role on Strike Back. As of 2014, she plays a starring role on the TV series The Last Ship.
Being a Lara Croft model in her younger days already indicates that Rhona has an incredible figure. Amazingly, she has managed to maintain this physique over the years. She's turning 40 this year, so it's really, again, amazing how she has kept up with aging and arrived prettier and sexier. For one, she has great genes, and of course, she has a healthy lifestyle. Aside from working out regularly and trying her best to be active most of the time to keep her stamina going, she is also a clean and healthy eater.
She starts her day right with a healthy breakfast usually consisting of eggs, bread, and fruits. For lunch, she focuses on loading her body with proteins and healthy facts, thus, eating chicken or fish most of the time, accompanied by salads consisting of veggies and fruits. For her in-between snacks, Rhona can be seen munching on fruits, yogurt, and nuts. These are not only healthy, but are more than enough to fill her, or anyone else's stomach, for that matter. For dinner, she has pasta with tuna and more veggie salads.