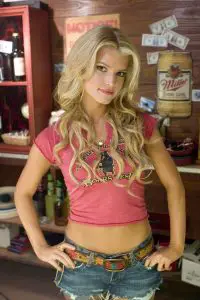 Singer-actress Jessica Simpson got her beginnings when she was 16, releasing her debut album Sweet Kisses. It was a commercial success with the hit single "I Wanna Love You Forever", which led to her rise to fame. She later donned a more mature image in her second album Irresistible in 2001. After marrying fellow singer Nick Lachey, she starred on the MTV reality series Newlyweds: Nick and Jessica from 2003 to 2005. The show became famous but the marriage did not last. During this period, she released her third album In This Skin, which became her most successful album to date. It spawned the hit song "With You".
She later ventured into acting, making her debut as Daisy Duke in the 2005 film The Dukes of Hazzard. Her version of the song "These Boots Are Made for Walkin'", which she recorded for the film was also a success. Apart from her musical and acting ventures, Simpson pursued a career in fashion, starting the fashion line The Jessica Simpson Collection. Subsequently, she starred in the 2006 film Employee of the Month. After this, she traversed the country music genre with the release of her sixth album Do You Know. She later starred in the movies Blonde Ambition, The Love Guru, and Private Valentine: Blonde & Dangerous. In 2010, she starred on the reality show The Price of Beauty and appeared as a judge on Fashion Star.
The actress-singer has struggled with her weight after the birth of her second child. She gained much weight and that got her some nasty criticisms. Thanks to her discipline and persistence, she was able to regain her slender figure, losing 60 pounds in the process. According to her trainer, she followed the Five Factor Diet — meaning she would eat five meals per day and these meals should be home-cooked with not more than five ingredients and five minutes to cook. She would also consume smoothies to avoid getting hungry often while still getting enough nutrients. Her diet during this period mainly consisted of lean proteins, fiber-rich foods, fruit and veggie smoothies, healthy nuts, low GI carbs, healthy fats, and sugar-free drinks.