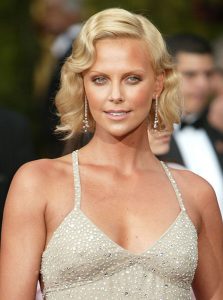 South African beauty Charlize Theron was supposed to be a ballet dancer, but an injury stopped her from being one. She then turned to acting as an alternative, which she has since discovered to enjoy and love. Starting in B-movies, she was first noticed for her supporting role in The Devil's Advocate, then in Mighty Joe Young. She became more prolific in the 2000s with performances in The Legend of Bagger Vance, Sweet November, and The Italian Job, before achieving acclaim for her portrayal of serial killer Aileen Wuornos in Monster. For her performance, she won an Academy Award for Best Actress. She has since made acclaimed roles in North Country and played female heroes in Æon Flux and Hancock. She continued her stardom in the new decade with notable parts in Snow White and the Huntsman, Prometheus, Mad Max: Fury Road, and recently in The Huntsman: Winter's War, reprising her role as Queen Ravenna.
Turning 41 this year, the pretty Charlize Theron stays the same and even looks better. It seems ageing in Hollywood agrees with her greatly. Being a dancer when she was younger, this must have contributed to her slender figure, in addition to her amazing genes. Having played lots of sexy female characters on the big screen, working out and engaging in training sessions is something that's part of her normal life. In fact, she is devoted to doing intense workouts. Thus, her toned and lean figure despite being in her 40s.
Apart from eating clean and pure food, her personal trainer has instructed the actress to stick on the ballet-based workouts, which apparently suits her because she danced ballet when she was younger. A 35-minute cardio is how she begins her routine, followed by lifting dumbbells weighing 5 lbs or lighter to avoid getting bulky. Charlize also does seated bicep curls, side laterals, butt lifts, bicycle crunches, bench press with 18 pounds exercise ball, and tricep pushdowns.