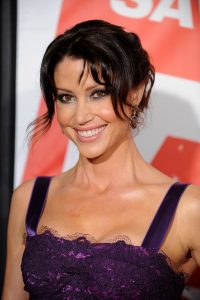 It was in 1996 that actress Shannon Elizabeth got her start. She first appeared in an episode of Arliss. She later made her movie debut in Jack Frost. After guest roles on the TV shows Hang Time, USA High, Step by Step, and Pacific Blue, she gained attention for her role as Nadia in the comedy film American Pie.
In the 2000s, she became further known for her performances in the movies Scary Movie, Dish Dogs, Tomcats, Jay and Silent Bob Strike Back, Thirteen Ghosts, Love Actually, Johnson Family Vacation, The Grand, The Kid & I, and Deal. She also reprised her role as Nadia in American Pie 2. Also during this period, she played recurring character Brooke on That '70s Show.
She next played the role of Tiffany Sherwood on the short-lived sitcom Cuts. In 2008, she appeared as a contestant on the reality show Dancing with the Stars, as well as hosted the show Live Nude Comedy. She simultaneously starred in the movie Night of the Demons. In the 2010s, she had performances in the films A Novel Romance, American Reunion, A Green Story, The Outsider, and Marshall the Miracle Dog.
Apart from her diet plan, the actress maintains her lean figure by being active. In an interview, she got candid about her workout routine. "Besides ballet and yoga, I love it when I can get outside and take my dogs hiking. Anything that gets my heart racing a bit makes me feel like I'm doing something that's good for me," said the actress.
Appearing on Dancing with the Stars also made her more active. "The show was one big workout. Now I love to go to Cardio Barre at least 2-3 times a week," she shared. "This workout hits everything—your arms, legs, abs… everything women want to tighten and tone, it does it!"