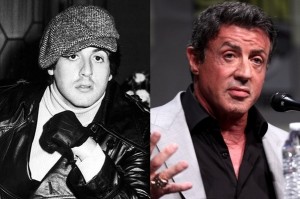 Early Life, Film Success, and Continued Career
Sylvester Stallone was born on July 6, 1946 in New York City, New York. He was nine when his parents divorced, resulting in him being raised by his mother. He has attended Charlotte Hall Military Academy, Miami Dade College, and the University of Miami.
In 1970, he starred in the soft core porn film The Party at Kitty and Stud's, explaining that he felt it was his last resort after losing his apartment and being homeless for days. He then landed roles in other films like Bananas, Klute, and The Lords of Flatbush.
Mainstream success came in 1976 after writing and starring in the blockbuster hit Rocky. Prior to the film's production, he attempted to sell the script first to numerous studios, but wanted to play the lead role as well. After some compromises, a deal was made with him as the star in the film.
Rocky was also a critical success, winning the Academy Award for Best Picture. Stallone was also nominated for Best Actor and Best Original Screenplay at the Academy Awards. He went on to reprise his role in 1979's Rocky II (also writer and director), which also became a smash hit.
In 1982, he started another successful film franchise as John Rambo in First Blood. He has since played the same role in the sequels Rambo: First Blood Part II and Rambo III. He also continued playing Rocky Balboa in Rocky III in 1982 and Rocky IV in 1985. Being highly associated with action roles, he tried to perform outside this genre with the movies Rhinestone and Over the Top, which did not do well at the box-office.
He started the 1990s with the release of Rocky V and continued his prolific career in such feature films as Demolition Man, Assassins, and Cop Land. The 2000s saw him star in the movies Get Carter, Spy Kids 3-D: Game Over, Rocky Balboa, Rambo, and The Expendables. In the 2010s, despite his age, Stallone continued his contribution in the action film genre with his performances in The Expendables 2, Escape Plan, The Expendables 3, as well as in the upcoming sports drama film Creed, which is a spin-off of Rocky.
Has Sylvester Stallone had Plastic Surgery?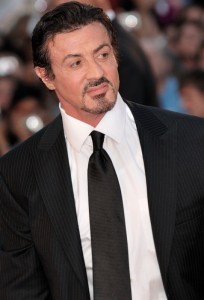 The actor has recently turned 69. Certainly, many years have passed since he showcased his knack for acting and writing in the first Rocky film back in 1976. Throughout his years in Hollywood, Stallone's career has never without issues. One rumor about the actor associated with his ageing and appearance is his alleged plastic surgery.
According to reports, the Rocky star possibly underwent a facelift and an eyebrow lift, explaining his tightened face and his arched eyebrows. Aside from this already invasive procedures, it was reported that he also might have done something on his jaw line, as well as received Botox injections. All these to chop off some years on his age.
Though plastic surgery does help others in their quest for youth and vanity, many believe that Stallone's cosmetic procedures have gone too far, which is apparent to how he looks in the present. That is, if he really had gone under the knife. Because despite the persistence of these rumors, the actor has never addressed any of them.