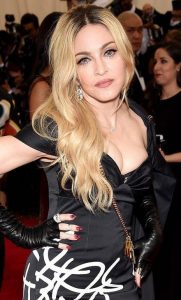 The Queen of Pop, Madonna, started her recording career during the 1980s. She released her debut album, Madonna, in 1983. This was followed by the highly successful Like a Virgin the following year. Her third album, True Blue, came out in 1986 and spawned the hit singles "Live to Tell", "Papa Don't Preach", and "Open Your Heart".
Since then, Madonna has been one of the best-selling artists on a global scale. She's also received acclaim for some of her albums. This includes 1998's Ray of Light and 2005's Confessions on a Dance Floor. Both of which had earned her Grammy Awards. She has also written and produced her own songs, some of which are the hit singles "Like a Virgin", "Vogue", "Take a Bow", "Music", and "4 Minutes".
She has also ventured into film, first starring in the 1985 film Desperately Seeking Susan. During the 1990s, she starred in the movies Dick Tracy, A League of Their Own, and Evita. For her performance in Evita, Madonna won the Golden Globe for Best Actress. However, many of her other films were not well-received. Other film roles were in The Next Best Thing and Swept Away. She also had a cameo appearance in the James Bond movie Die Another Day.
Being in her 60s, her fans are just crazy curious of what her secrets are to keeping a toned figure. Though for the actress and singer, it's only a matter of eating clean and exercising. "It's all about hard work. There is no easy way. If you want to know how I look like I do, it's diet and exercise and constantly being careful," she said in an interview. As for her diet, it is reported that Madonna follows a macrobiotic diet, which primarily consists of fish, grains, cooked vegetables, and salad. She doesn't eat dairy and mostly stays away from wheat.