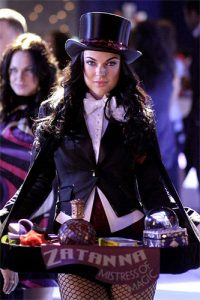 It was in 2005 that Serinda Swan began her acting career in Hollywood. This was when she appeared in the film Neal 'n' Nikki. Afterwards, she guest-starred on the television shows Supernatural and Exes and Ohs. Her next acting work was in the TV films Loch Ness Terror and Hostile Makeover. She next portrayed Zatanna Zatara in three episodes of Smallville. Her first starring role on the small screen came in the 2010s as Erica Reed on Breakout Kings. Afterwards, she starred as Paige Arkin on Graceland. At the same time, she also had a recurring role as Brittany Baker on Chicago Fire. This year, she appeared as Chloe on the HBO series Ballers.
The television star sustains her beauty, fitness, and healthy by taking good care of herself. Aside from opting to have a clean and a well-rounded diet, she also chooses to live an active life. She does so by engaging in workouts and other activities. She understands the importance of physical activity to not only help her maintain a healthy weight but to also raise her energy levels and help her improve her mood. Given this, she doesn't allow herself to have a sedentary lifestyle. In an interview, she was noted for saying:
"I do Lagree (it's like super Pilates) and workout with Jason Walsh, my trainer whom I consider the workout wizard! He focuses on training like an athlete which I love. It brings be back to my gymnastics days. Some days, I'm pushing a 200 pound sled down the track or on days he has a sense of humor, he just ties a rope around himself and I have to pull him around the gym. He is not a little man!" With her vigorous physical routine that involves many kinds of exercises, it's not surprising that Serinda has a great physique.