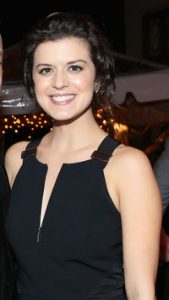 Canadian star Priscilla Faia first worked in short films before going for movies and TV shows. She had her breakthrough after landing the part of Chloe Price in the popular Canadian series Rookie Blue, which she starred in from 2013 to 2015. She joined the main cast from seasons 4-6. For her performance, she was nominated for the Best Performance by an Actress in a Featured Supporting Role at the Canadian Screen Awards.
At the same time, she had a one-time role in the TV series Seed. Later, she had a supporting character in the TV film My One Christmas Wish. In 2016, she made a guest appearance in one episode of Motive. She gained wider recognition after getting the part of Izzy in the American-Canadian comedy-drama series You Me Her. She has been part of the show's lead cast since Season 1 premiered in 2016. For her work here, she was nominated for the Best Lead Performance by a Female at the Leo Awards.
The actress keeps herself fit and healthy by trying to be mindful of her eating habits. But eating healthily for her doesn't mean she starves herself. She doesn't follow any strict diets or any of those fad diets that are prevalent in Hollywood. To stay in good shape, she eats nutritious foods laid out in balanced meals. Even when it gets busy, she makes efforts not to skip meals as well. For the Canadian actress, following a clean diet plan doesn't mean not eating whatever she wants.
Basically, she still allows herself to eat whatever she pleases but always in moderation. Excessive snacking and mindless eating are a no-no. Her meals typically consist of lean meat, veggies, whole grains, and healthy fats. She has a sweet tooth but she knows better than to overindulge. "I have a sweet tooth but so many bad things would come from it. You'd get big, you'd get diabetes…I'm taking these very seriously. I want sweet, of course, but it would be so bad," said Faia.