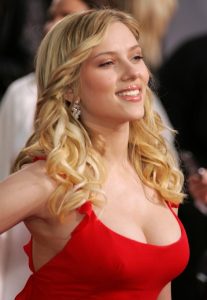 American actress Scarlett Johansson has been acting since she was young. She was first significantly noticed for her starring role in The Horse Whisperer, followed by Ghost World. Growing up in Hollywood, she eventually shifted to more adult-oriented roles with performances in Girl with a Pearl Earring and Lost in Translation, the latter of which earned her a BAFTA Award for Best Actress in a Leading Role. In the next few years, she mostly starred in well-known Hollywood productions, including The Prestige, Vicky Cristina Barcelona, The Other Boleyn Girl, and Don Jon, establishing her as a certified A-list star. Most recently, she is best known for playing Black Widow in Iron Man 2, The Avengers, Captain America: The Winter Soldier, Avengers: Age of Ultron, and Captain America: Civil War.
It is not a secret that Scarlett's overall appeal is beyond compare. For this, she has been included in numerous sexy celebrity lists, establishing herself as a sex symbol. She is also one of those actresses who are not into being slim, but yet appears to be sexy and curvaceous at the same time. With her thousands, or even millions of fans worldwide, they wonder how the beautiful actress keeps up with her busy work schedule and her being a mother to maintain her health and fitness at the same time.
For her role as the Black Widow in the Marvel Cinematic Universe, Scarlett knew she needed to work harder to effectively portray the fierce comic book character, which turned out to be so great in the film adaptations. Interestingly, she only had five to six weeks to train prior to filming of The Avengers, but this didn't stop the actress from performing all the fight scenes perfectly. Also during filming, the actress would make sure that she continues to perform some training sessions, which includes basic cardio exercises to circuit training to enhance her stamina, endurance and agility.