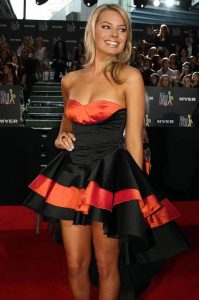 Australian beauty Margot Robbie is now one of Hollywood's most beautiful faces. Starting a career in Australia with roles on television, she soon penetrated Hollywood. Her first work in the US was on the short-lived series Pan Am. Despite the show's cancellation, she managed to get back up by starring on The Wolf of Wall Street. In the movie, she played Naomi Lapaglia, the wife of Leonardo DiCaprio's character. This instantly brought her to the spotlight. With this, she had starring roles in the films Z for Zachariah, Focus, and Suite Française. 2016 is also a good year for the actress. During this period, she stars in The Legend of Tarzan, Whiskey Tango Foxtrot, and Suicide Squad.
Looking at her, Margot takes care of herself quite well. She's only in her 20s, but the dedication she puts in to make sure she's healthy is incredible. Now that she's taking Hollywood by storm courtesy of her high-profile roles on the big screen, we can expect her to be more careful of how she cares for her body. Aside from eating clean and healthy, Margot also works out. But she doesn't do it so intensely. For her role as Harley Quinn in Suicide Squad, she had to undergo some training because it was necessary for her role.
But normally, Margot enjoys simple exercises at home. For her role as Jane in Tarzan, she didn't want to lose weight, so she skipped the training sessions. She thought her body at the time of the filming was suitable enough for her character and slimming down is just a waste of effort. Besides, she said she didn't want to look thin while her co-star Alexander Skarsgård was all bulked up. As mentioned, she keeps it simple by doing cardio, yoga, and Pilates. These along with her healthy diet plan keep her fit, healthy, and full of energy to take up other Hollywood challenges.