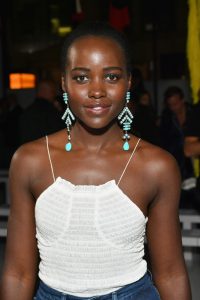 Kenyan-Mexican actress Lupita Nyong'o had her acting career beginnings in the late 2000s. Her debut was in the short film East River. She next made her first television appearance in the miniseries Shuga. She had her break in the 2010s. This was after landing the role of Patsey in the award-winning movie 12 Years a Slave. Her performance in the film earned her an Academy Award for Best Supporting Actress. 12 Years a Slave was also her first role in a feature film. She next starred in the thriller film Non-Stop. Afterwards, she played the role of Maz Kanata in Star Wars: The Force Awakens and its sequel Star Wars: The Last Jedi. She also voiced the role of Raksha in The Jungle Book. She will star as Nakia in the 2018 upcoming movie Black Panther.
The award-winning actress stays in shape by eating healthily. She chooses the right foods most of the time, which means she usually opts for something whole and nutritious, not processed and refined. In an interview, she said: "I eat well and drink water even when I don't feel like it". She also said that her go-to meals are salmon or chicken with rice. She doesn't like eating processed foods, so fast foods are not her thing. Typically, she starts her healthy habits in the morning when she wakes up. She does so by eating healthily first thing in the morning.
For breakfast, she usually has "plantain, sweet potatoes, and blueberries." She likes drinking fresh pineapple juice and opts for a lemongrass tea whenever she needs some calming and relaxing to do. She doesn't like sugary beverages and coffee. She also believes in the importance of balance and moderation, which is what she incorporates into her diet constantly. By and large, the acclaimed actress just follows the basics when it comes to healthy eating.