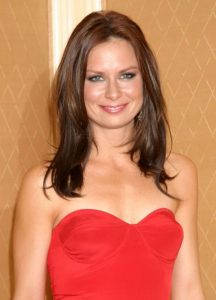 Hollywood star Mary Lynn Rajskub got her start in the mid-1990s. Her first notable role on television was as Mary Lou Collins in The Larry Sanders Show. Later in the decade, she had appeared in the films Who's the Caboose? and The Thin Pink Line. From 1999 to 2000, she played the role of Chloe in the series Veronica's Closet. She then gained mainstream stardom for playing Chloe O'Brian in the hit show 24.
Simultaneously, she also had supporting roles in the films Legally Blonde 2: Red, White & Blonde, Claustrophobia, Helter Skelter, and Firewall, among others. After 24, she appeared in the program Chelsea Lately. She also played Janet in the show How to Be a Gentleman. She went on to reprise her role as Chloe O'Brian in the limited series 24: Live Another Day, as well as appeared Genevieve Mirren-Carter in five episodes of Brooklyn Nine-Nine. She's also recently starred in the movies Wilson and Night School.
She may be in her late 40s but the 24 actress remains youthful with a toned and slender figure. What's her secret? Well, she tries her best to work out as regularly as possible. She wasn't always the exercising type. According to her, it was tough to find the motivation to physically train frequently, especially when being an actress doesn't really give her that much free time. But as she grew older, she realized how working out is doing her body and her overall health a favor.
When she noticed that it made her feel better, she became more inclined to work out. "I'm not really motivated [to exercise], but over the years I've realized that it makes me feel better about myself. It's a good way to clear your head, and a good energy booster," she said. What's her favorite workout routine? "I do group interval training, which is half-cardio, half-strength training," the actress revealed.