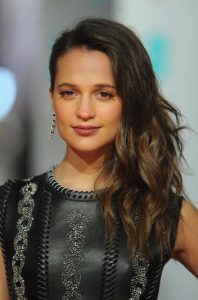 Alicia Vikander is a Swedish actress who started her career in Sweden. She soon found greater prominence outside Sweden when she had roles in Anna Karenina, as well as in the acclaimed Danish film A Royal Affair, the latter of which earned her a BAFTA Rising Star Award nomination. It was, however, in the movies Testament of Youth and Ex Machina, released in 2014 and 2015 respectively that introduced her to widespread attention worldwide. For her performance in the The Danish Girl, she won an Oscar for Best Supporting Actress, which surely included her in the list of sought-after actresses in the present times. More interestingly, it was recently confirmed that she will play Lara Croft in a new Tomb Raider film adaptation.
The Swedish beauty is now getting her mainstream kicks in Hollywood. With her latest deal as Lara Croft in the upcoming adaptation of the film that launched Angelina Jolie's heroine status, Alicia is set to be a bigger star than she is now, in addition to her latest collaboration with Louis Vuitton as well. The actress is only in her mid 20s, but even though she's still young, she doesn't feel the complacency to eat whatever she wants.
While it is true that she loves good food, the actress makes sure that she only has something nutritious most of the time. She's aware that starting a not very good eating habits now will lead to an unhealthier and weaker her. Thus, she exerts the time and efforts to cook her own, clean food. She may be always busy with her work, but every time she finds the extra time to spend with her friends, she spends it with them cooking and eating. According to her, she specializes in dishes that are good for sharing with friends and family, like moussaka and chili.