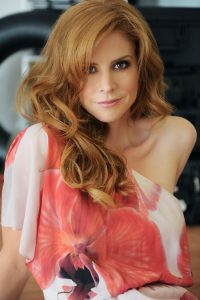 Hollywood star Sarah Rafferty got her start 1998 when she appeared in the TV movie Trinity. After that, she guest-starred in an episode of Law & Order. Her career became more active in the 2000s, starting with her first movie role in Mambo Café. She next had roles in the films Speakeasy and Soccer Dog: European Cup. Later in the decade, she had a role in the movie Falling for Grace.
During this period, she also made several guest appearances on television. This includes one-episode roles in such shows as CSI: Crime Scene Investigation, 8 Simple Rules, Samantha Who?, and Numb3rs. She also starred in the TV movies Football Wives and What If God Were the Sun?. In the 2010s, she rose to fame courtesy of her role as Donna Roberta Paulsen in the television series Suits. She has been playing the said role since 2011.
To stay fit and healthy, the Suits star works out on a regular basis. To make sure that she's motivated to do so, she works with a trainer to make the process easier in a way that she feels more obligated to work out. She knows this is what her body needs. So, how exactly does she stay in shape? For one, she loves Pilates. She also performs weight-lifting exercises. She also performs cardio but when it comes to this, she prefers doing it outdoors.
She likes running outside rather than in a gym. She also thinks it is important to work out outdoors sometimes. Being connected with nature has health benefits on one's body as well. Due to her hectic schedule, there are times that Sarah doesn't have extra time to spend on exercise. Her solution? She makes her "own 20-minute mini boot camp in the park". But there's one thing that she's not a fan of and that's doing abs workouts. She explained: "I hate all the core stuff. That's why I have to have a trainer. That's the only way I'm going to do the abs work."