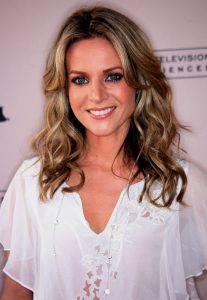 Hollywood star Jessalyn Gilsig got her start in 1989, appearing in the film Jacknife. She later worked as a voice actress, starring on the animated series Young Robin Hood in the early '90s. After a hiatus, she resumed her career, guest starring on such television shows as To Have & to Hold, Viper, Seven Days, and The Sentinel. She later starred on the TV film A Cooler Climate. In 1998, she appeared as Lucy in the movie The Horse Whisperer.
Her career flourished in the 2000s, playing Lauren Davis on Boston Public. Following this, she gained further prominence for starring as Gina Russo on Nip/Tuck. Simultaneously, she had recurring roles on some shows, such as her role as Det. Kelly Ronson on NYPD Blue, Lisa Rix on Prison Break, Shelley Hayes on Friday Night Lights, and as Meredith Gordon on Heroes. She later became further recognized for playing Terri Schuester on Glee. From 2013 to 2015, she played Siggy on Vikings. She next played Vanessa Moss in 5 episodes of Scandal. She has also performed in such movies as See This Movie, Flood, Prom Night, The Stepfather, About Fifty, and Somewhere Slow.
The 47-year-old actress is all about healthy eating. For starters, she doesn't eat anything processed. In an interview, she got candid about her diet plan. "I basically don't buy prepared food. My mother was a really good cook, and somehow she drove it into my head that you never really know what's in the food you're eating unless you take it from its most original form and prepare it yourself. I don't buy prepared food or processed food, and we eat a lot of salads and beans. I cook a protein once a week," said the actress. Because of her healthy eating habits, Gilsig looks amazingly slender despite the fact that she's nearing her 50s.