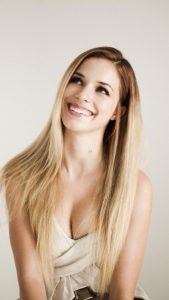 Hollywood actress Alexis Knapp had her career beginnings in the late 2000s starting with the movie Couples Retreat. She next appeared with a small role in the film Percy Jackson & the Olympians: The Lightning Thief. Her credited role was in the movie Project X. That same time, she gained recognition for playing Stacie in the box-office hit Pitch Perfect.
She also had notable roles in the films So Undercover and Cavemen. On television, she landed her first starring role as Tori in the short-lived series Ground Floor. Subsequently, she had roles in the movies Grace, The Anomaly, and Urge. She reprised her role as Stacie in Pitch Perfect 2. She continued to play the role in the sequel Pitch Perfect 3. She's also starred in the Lifetime movie My Christmas Prince.
The 28-year-old actress stays in shape by living a healthy lifestyle. Aside from her regular workouts, the actress-singer makes sure she eats right. This means focusing on healthy foods and avoiding processed ones. Basically, she doesn't follow a strict diet. She's not into fad diets which mostly require dieters to deprive themselves of food. She's totally not into that because she's a foodie. She likes eating and having what she wants makes her happy. Nonetheless, she knows she needs to put a balance in her diet plan in order to stay fit and maintain a healthy weight.
While she doesn't deprive herself of food, she also doesn't allow herself to overindulge. Eating in moderation is one of her principles when it comes to healthy eating. She also eats health foods more frequently. Usually, these are lean proteins, whole grains, and fruits and veggies. She tries to eat a healthy breakfast to fuel her body throughout the day. She indulges in her cravings once in while – for instance, sweets, fries, and pizza – but, she practices portion control always.