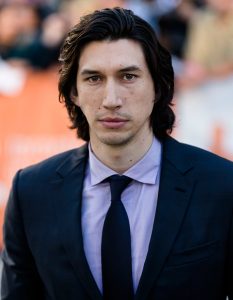 Hollywood actor Adam Driver had his career beginnings in the 2010s. During his early years, he guest-starred in the shows The Unusuals and Law & Order. He made his big screen debut in the 2011 movie J. Edgar. He later had notable roles in the films Not Waving But Drowning, Frances Ha, and Lincoln. He then became known for starring as Adam Sackler in the HBO series Girls. At the same time, he continued starring in the movies.
This includes Inside Llewyn Davis, Tracks, What If, While We're Young, and This Is Where I Leave You. He achieved further success as an actor after landing the role of Kylo Ren in Star Wars: The Force Awakens. He next starred in the features Midnight Special, Paterson, Silence, The Meyerowitz Stories, and Logan Lucky. This year, he reprised his role as Kylo Ren in the sequel Star Wars: The Last Jedi. Other films this year are The Man Who Killed Don Quixote and Black Klansman.
The actor revealed that he underwent rigorous physical training to prepare for his role as Kylo Ren in the latest Star Wars franchise. One thing that he did was undergo martial arts training along with his co-stars. It was also reported that the actor did "plank-based exercises, pull-ups, and push-ups" as means of boosting his core muscles. It was said that he utilized "medicine balls, resistance bands, and free weights" in order to transform his physique and overall strength.
Being in the United States Marine Corps before, physical training is something that doesn't intimidate the actor. He also shared how this helped him with his training for Star Wars. He said in an interview: "We didn't have lightsabers in the Marine Corps but yeah, I enjoyed the physical part. Plus it's part of the ['Star Wars'] world we're trying to inhabit. Their bodies and the way they inhabit them physically is very much their world, so it didn't seem so much of a huge undertaking. It's like the vocabulary of this world."