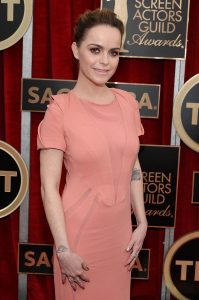 It was in 1999 that actress Taryn Manning got her start in the world of acting. During this period, she also landed her first recurring role on the small screen as Rebecca Peabody in Get Real. In 2001, she played her first credited role on the big screen with Crazy/Beautiful. She next played a supporting role in the movie Crossroads.
She later had roles in the Hollywood films White Oleander, 8 Mile, Cold Mountain, A Lot Like Love, and The Breed, among others. She went on to play Ivy Chitty / Ellie Laird in the series Drive. She also became known for appearing as Rita in Sons of Anarchy. In the 2010s, she played Mary Ann McGarrett in Hawaii Five-0. As of 2013, she plays the part of Tiffany "Pennsatucky" Doggett in Orange Is the New Black. Her latest movies are A Winter Rose and The Vault.
She's turning 40 this year but it doesn't seem that Taryn Manning is losing her slender figure. She's still got it, obviously. How does she maintain her svelte frame? For one, the actress has an athletic background. In fact, she held the Arizona State Champion title in Karate during her teenage years. In her later life, she continued living an active lifestyle through her workout routine, sports, and other outdoor activities.
One thing's for sure, she loves moving around. Being physically active is part of her daily lifestyle. Whenever she has time, the actress said she loves to hike and do Pilates. She also engages in kickboxing and Bikram yoga. These practices not only help her stay in shape, they also make her feel great about herself. "I love to sweat! It is also good for mediating and calming my brain a bit," she said in an interview. Exercising is actually scientifically proven to be helpful in improving your mood and overall health, of course.