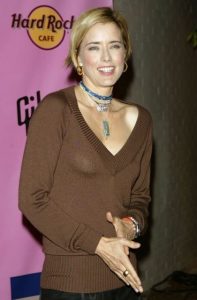 Hollywood actress Téa Leoni started her acting career in the 1980s. She made her debut as Lisa DiNapoli in the soap opera Santa Barbara. The following decade, she starred as Alicia in the series Flying Blind. In 1991, she made her film debut in Switch. After a few more small roles on the big screen, she finally made her break as Julie Mott in the action-comedy film Bad Boys. She next starred in the film Flirting with Disaster.
Her starring performance in the movie Deep Impact brought her to mainstream attention. She also starred as Nora Wilde in the series The Naked Truth. In the 2000s, she became further known when she starred in Jurassic Park III. The rest of the 2000s saw her star in the films Hollywood Ending, House of D, Spanglish, Fun with Dick and Jane, and Ghost Town. Her last role as a film actress was in 2011's Tower Heist. Since 2014, she's been playing the lead in the television series Madam Secretary.
The 52-year-old actress stays in shape by sticking to a healthy diet plan. Though she admits that she doesn't always follow it, she does try her best most of the time. She also understands that with her age, it's more important to be cautious of the foods that she eats. During her younger years, she admitted that she was careless. She would eat whatever she wanted and indulged in her cravings. She knows that it shouldn't be the case now. Considering she's a mom and a full-time actress, she needs her energy and strength more than ever – something that a healthy diet can deliver.
In an interview, she was asked if she's health conscious. She answered: "I try. When I'm not treating my body well, it holds up a sign to let me know. I'm really into raw kale salads right now, with cranberries and walnuts. I make this Asian orange dressing that is out of this world."