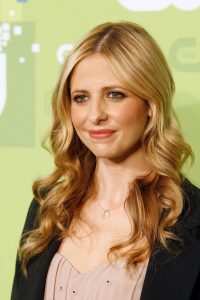 It was in 1983 that American actress Sarah Michelle Gellar started her acting career. Her very first acting gig was the TV movie called An Invasion of Privacy. Her first starring role came in the '90s in the show Swans Crossing. She next starred in the soap opera All My Children.
It was, however, her role as Buffy Summers in the hit show Buffy the Vampire Slayer. He has also starred in many movies, such as I Know What You Did Last Summer, Scream 2, Simply Irresistible, and Cruel Intentions. In the 2000s, she played Daphne Blake in Scooby-Doo and Scooby-Doo 2: Monsters Unleashed. She later starred in The Grudge and The Grudge 2. In the 2010s, she had starring roles in the TV shows Ringer and The Crazy Ones.
Sarah Michelle Gellar stays in shape by living an active lifestyle. Despite being in her 40s, it is apparent how the actress still looks fabulously fit. She loves moving around though she said she prefers outdoor activities rather than indoor ones. In an interview, she got candid about how she stays in shape.
She said: "I chase two children around which is the best recipe to stay active as they're so active. I'm very fortunate that I live in a climate that's beautiful year around (Sarah lives in LA) and I try to take advantage of being outside, whether it's hiking or going to the beach and swimming and surfing. I prefer all those great outdoor activities than indoor activities – although I do love yoga. If we do yoga on the beach then I'm really happy."
She also meditates as this helps relaxes both her body and mind. She shared: "Just giving your body the rest it needs even if it's just five minutes of meditation just to calm the craziness of the day."