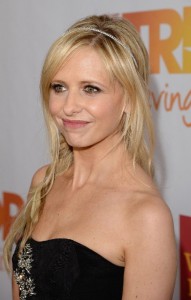 American actress Sarah Michelle Gellar has been a familiar face for so long. She was discovered at age four and has since become active on both film and television. Despite having a prolific career earlier, Sarah's real major break was in Buffy the Vampire Slayer as it was her part in the said show that garnered her international fame. The role even got her a Golden Globe nomination. Around the same time, she had starring roles in hit films like I Know What You Did Last Summer, Scream 2, and Cruel Intentions. In the 2000s, after Buffy the Vampire Slayer, she starred in the movies The Grudge and its sequel, as well as in Scooby-Doo and its sequel, too. In the late 2000s, most of her work were in straight-to-video movies and later went on to have starring roles in mostly short-lived shows like Ringer and The Crazy Ones.
The 38-year-old mother of two stays fit and healthy despite being busy with her career and family. For one, Sarah has been slender ever since, and amazingly her body has never really changed even after becoming a mom. For this, she credits her healthy lifestyle for giving her an amazing figure and for keeping her healthy. She's a big believer in healthy eating and is not fond of junk foods. She said she'd rather eat a meal than a snack. She also drinks lots of water and always gives her body and mind the rest it needs after a crazy day.
One of Sarah's favorite food is sushi, which she also considers her healthy go-to meal. Of course, since she's a foodie, she doesn't deprive herself of the food she likes. She said in an interview: "If I want a piece of cake then I'm going to have to have a piece of cake." She also added that while she likes giving herself a treat by having a piece of cake, she'd rather have one that is homemade than the ones bought from a store as these usually are unhealthy and contain lots of preservatives.