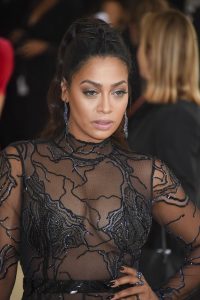 Hollywood star La La Anthony first came to prominence as a VJ for MTV's Total Request Live. She went on to appear in several reality shows, including Flavor of Love, I Love New York, For the Love of Ray J, and Real Chance of Love. She also hosted the show Direct Effect. Venturing into acting, she debuted in the 2001 film Two Can Play That Game. She later appeared as herself in the movie You Got Served. After appearing in more TV shows, she appeared in the show Charm School with Ricki Lake as the dean. She later starred in the straight-to-video film Gun.
From 2011-2014, she starred in her own reality series La La's Full Court Life. She went on to play the role of Sonia in Think Like a Man. She reprised her role in Think Like a Man Too. She also had performances in the movies Baggage Claim and 1982, as well as guest-starred in Law and Order: Special Victims Unit. As of 2014, she stars as Lakeisha Grant in the crime drama series Power. While on the show, she had roles in the movies Chi-Raq, November Rule, Destined, Double Play, and Deuces. Also, she played recurring character Isabel Carlisle in Daytime Divas.
The celebrity takes care of herself by sticking to a healthy diet plan. At least she tries to most of the time. "I'm trying to stay consistent in making better choices when it comes to food," said the star. According to her, she starts her day with a protein shake in the morning. For lunch, it's usually fish or chicken with veggies. She has pretty much the same thing for dinner. Throughout the day, she snacks on a protein bar every time she gets hungry. Another important of her daily routine is hydration so she makes sure she drinks plenty of water. As for her guilty pleasures, the actress and reality personality said chocolates are her weakness.