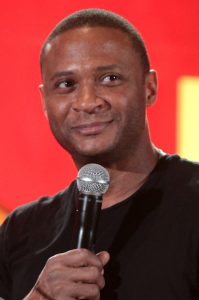 Hollywood actor David Ramsey first appeared in the 1987 film, Scared Stiff. In the 1990s, his career became more steady, initially guest-starring in some television shows. His first regular role on TV was as Pastor David Randolph in the sitcom Good News. He later had roles in the films The Nutty Professor, A Very Brady Sequel, Con Air, and Three to Tango.
In 2000, he portrayed Muhammad Ali in the TV movie Ali: An American Hero. He then had recurring roles in such shows as For Your Love, Huff, and Ghost Whisperer. At the same time, he starred in some TV films, including Hello Sister, Goodbye Life, and Fatal Contact: Bird Flu in America. During this period, Ramsey also had performances in the films Pay It Forward, Mr. Bones, Hair Show, and The Death and Life of Bobby Z.
He even played the title role in the independent film Resurrection: The J.R. Richard Story. In 2008, he had notable roles in the TV shows Hollywood Residential and Wildfire, as well as played Anton Briggs in Showtime's Dexter. In the 2010s, the actor became best known for his roles as Mayor Carter Poole in Blue Bloods and John Diggle / Spartan in Arrow. He reprised his role in the latter in the spin-offs The Flash and DC's Legends of Tomorrow.
David Ramsey's role in the superhero series Arrow naturally required him to up his workout routine. Because his character was former military, he wanted his physique and even his movements to be as authentic as possible. "I love the new stuff like CrossFit, but for me what has always worked has been just been the classic approach of a regular split routine," he said about his workout routine. "So legs and shoulders one day, chest and triceps the next with 10 minutes of cardio at the beginning and end of each workout."