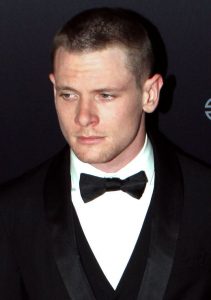 English actor Jack O'Connell first appeared in an episode of Doctors back in 2005. That same year, he played recurring part Ross Trescott in the television series The Bill. He next had his first movie role in 2006's This Is England. At the same time, he landed one-time roles in such TV films as Waterloo Road, Holby City, Wire in the Blood, and Wuthering Heights.
He later had performances in the films Eden Lake and Harry Brown. From 2009 to 2010, he gained recognition for his role as James Cook in the British series Skins. He returned in 2013 as a guest star. He simultaneously starred in the TV movies Dive and United. O'Connell then played Eamonn Docherty in the crime drama The Runaway. In the 2010s, the actor landed more roles on the big screen.
He appeared in Weekender, Tower Block, Private Peaceful, The Liability, Starred Up, and 300: Rise of an Empire. In 2014, he portrayed Louis Zamperini in Angelina Jolie's film Unbroken. He later played Kyle Budwell in Money Monster. He also portrayed Jan Kubiš in The Man with the Iron Heart and Cameron Todd Willingham in Trial by Fire. Alsi in 2017, he starred as Roy Goode in the miniseries Godless.
For his role in the movie Unbroken, the actor trained hard to improve his physique. Apart from a nutritionally-balanced diet, he also upped his physical training. The actor was already involved in the film 300: Rise of an Empire, so training hard wasn't something new for him. For up to 5 hours per day, O'Connell worked out to build his core strength with his trainer. He avoided doing several weights in order to preventing any injuries from happening. Insted, the actor worked out diligently to concentrate on his core and endurance. When he's not working, his workout routine is pretty simple — go for walks, go running, and play sports.