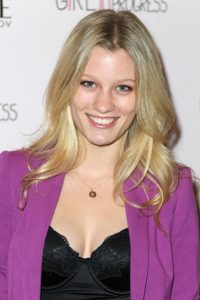 American actress and model Ashley Hinshaw only recently started her Hollywood career. Upon starting on television, she began to gain notice for her beauty and knack for acting. Her initial acting gigs were on Gossip Girl, Fringe, and The Glades. Her first movie appearance was in the thriller Rites of Passage. She then became known for her roles in the films Chronicle and LOL. She went on to star in the film The Pyramid. She also had a recurring role on True Blood. Since 2016, she has been starring on the TV series StartUp. Other movies she had appeared in were Goodbye to All That, Snake and Mongoose, and About Cherry.
Standing at around 5'7, the actress is surely noticeable not only for her beauty, but also for her slender figure. Right now her career is on the right side and more is expected of her. She's only in her 20s, so her metabolism is still quite fast. This is probably one of the main reasons why she has a thin frame. Despite her being slim, the actress does not look weakly or unhealthy. She is lean and is full of energy. When asked about her diet secrets, Ashley revealed she doesn't have any.
She does not follow some sort of special diet plans. She just eats what she knows are healthy most of the time. She also eats whatever it is that she likes. To avoid gaining weight, she makes sure she only eats moderately. This is where she places her discipline, portion control. She even allows herself to dig in to her guilty pleasures like cupcakes. She eats food that makes her happy because she believes that being healthy is not only physical, but also mental. She mostly focuses on eating lean protein like chicken and fish for her meals. She also incorporates fruits and veggies into her meals all the time.