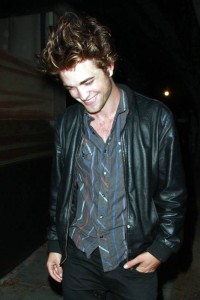 English actor Robert Pattinson began acting when he made his cinematic debut as Cedric Diggory in Harry Potter and the Goblet of Fire released in 2005. Prior to that, he appeared in a TV movie. After working on a few more TV films, he finally got his breakthrough as Edward Cullen in Twilight (2008). This film adaptation of the best-selling novel of the same name became a worldwide hit just like the book that precedes it that it cemented Robert's Hollywood fame. It also made him a certified heartthrob, especially among teenage fans. He continued playing the same role in all the Twilight films from 2008 to 2012. Outside The Twilight Saga, he has starred in Little Ashes where he portrayed Salvador Dalí, Remember Me, Love & Distrust, Water for Elephants, Bel Ami, Cosmopolis, The Rover, Maps to the Stars, and recently, Queen of the Desert and Life. Being a prolific actor, Robert has some upcoming movies.
Standing at 6'1, Robert was scrawny-looking when he started out in movies. In the present, the charming actor has an average stature but with muscular shoulders and toned legs and arms, still making him appear masculine. Unlike other actors, Robert doesn't really engage in heavy and intense workouts. What he likes is moderate kinds of exercises, which are still healthy and can still ensure that he stays fit and lean without overdoing his physical endeavors. Thus far, his roles in the cinema have not required him to gain significant amount of muscles, so Robert is not pressured to change his physical appearance.
He usually begins his workout session by doing cardio, which includes jumping, running, walking for only five minutes. His toned upper body portion is achieved through back rows and push ups. To enhance the lower part of his body, Robert engages in dumbbell side bands and crunches. His workout routine is actually a good system so he can maintain having a proportional body.