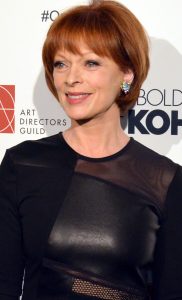 Hollywood star Frances Fisher first starred as Detective Deborah 'Red' Saxon in the television show The Edge of Night. This is a role she played from 1976 to 1981. Later in 1983, she made her first movie appearance in Can She Bake a Cherry Pie? Her next film roles were in Tough Guys Don't Dance and Heart, among others. Fisher also had guest roles on some television shows during this period.
She then starred as Angie in the Fox series Strange Luck during the 1990s, as well as played Dr. Elizabeth 'Liz' Carson in Becker. She simultaneously had performances in the films Welcome Home, Roxy Carmichael, L.A. Story, Unforgiven, Molly & Gina, Striptease, Wild America, and True Crime. Fisher also portrayed Ruth DeWitt Bukater in the 1997 blockbuster film Titanic. She then portrayed Ella van Heemstra in the film The Audrey Hepburn Story.
Her television career got more extensive in the 2000s with notable roles in Titus, Glory Days, The Lyon's Den, Eureka, and The Shield. She was also active in the movies during this period. She starred in such films as Gone in 60 Seconds, House of Sand and Fog, Laws of Attraction, Jolene, and The Perfect Game, among others. From 2014 to 2015, Fisher starred as Lucille Langston in the ABC series Resurrection. She also currently appears as Elise Holden in the sci-fi show The Expanse.
Frances Fisher remains fit and healthy thanks to her clean diet plan. The actress follows a vegan diet to be exact. She has since completely removed meat and all kinds of animal products from her diet, which she's found to work best for her health-wise. In an interview, the actress shared her chosen lifestyle and how it has since impacted her general well-being. "I am a vegan. I don't drink caffeine or alcohol, and I do not eat gluten. Forgive and be grateful," said Fisher.