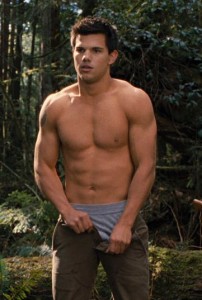 23-year-old Taylor Lautner started his career in the 2000s and has appeared in a few films in his youngsters before gaining his breakthrough as Jacob Black in Twilight in 2008 with him being the only actual teenager in the main cast (Kristen was already 18 at the time while Robert was 22). The film's international success paved the way for the actor to be widely recognized not only in Hollywood but also abroad.
He went on play his role as Jacob in all the Twilight films from 2008 to 2012. With his new-found fame, he joined the ensemble romantic comedy film Valentine's Day in 2010 playing Taylor Swift's love interest. In 2011, he starred as the lead in the action-thriller Abduction. Subsequent movies are Grown Ups 2 and Tracers. Taylor has upcoming movies – Run the Tide and The Ridiculous Six, which are much-awaited by his fans for sure.
The young hunk achieved notoriety for frequently showing his lean bod in the Twilight films. Being a werewolf in the film, it was somehow required of him to show more skin than the other casts, thus, Taylor really worked hard to prepare for his character. As he was able to achieve his chiseled-looking body, it made him even more popular and became one of the most talked-about young stars back in the late 2000s and early 2010s. To help him maintain his healthy and amazing physique, Taylor works with personal trainer Jordan Yuam.
Interestingly, his character Jacob was not that brawny during the first Twilight film (2008). But because his improved strength and power had to be shown in the second movie, he had to enhance his physical form as well, which meant he was required to gain 30 pounds of muscle in a year for the second Twilight film, which he did and got him admiration from thousands of female fans around the world. His trainer said that the secret was just to eat right and follow a strategic lifting system.