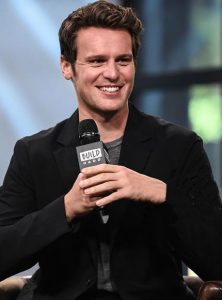 Jonathan Groff earned significant attention for his performance in the original Broadway production of Spring Awakening as the lead character. His work here got him a Tony Award nomination. Soon, he started his television career where he debuted in the soap opera One Life to Live as Henry Mackler. He next starred in the pilot Pretty/Handsome. In 2009, he made his cinematic debut playing the role of Michael Lang in the movie Taking Woodstock. He then portrayed Louis Weichmann in the film The Conspirator the following year.
Groff achieved bigger success after getting the part of Jesse St. James in the popular series Glee. He played the role recurrently from 2010 to 2015. During this period, he also guest-starred in The Good Wife, as well as starred as Ian Todd in the short-lived series Boss. From 2014 to 2015, he starred as Patrick Murray in the HBO series Looking. He went on to play a supporting role in the HBO TV film The Normal Heart. Back in the movies, he joined the cast of the film C.O.G.
His first role in a major film was as the voice of Kristoff in Disney's Frozen. The actor also appeared in the 2014 feature American Sniper. He has since reprised his role as Kristoff in the short films Frozen Fever and Olaf's Frozen Adventure. He'll play the role again in the upcoming sequel Frozen 2. In addition, Groff became further praised for his acting chops courtesy of his lead role in the crime thriller series Mindhunter.
Apart from his workout routine, the actor nourishes his body with good food. Although he doesn't have any strict diet regimen, he makes sure he eats well most of the time. Though in an interview, he admitted that he didn't always have the best eating habits. So he worked hard to change his lifestyle. "The first was to stop drinking Diet Coke because, I kid you not, I used to drink five or six a day. I was addicted," said the actor.
For his role in the TV series Boss, however, the actor had to diet. "You're meant to eat deep-dish pizza in Chicago, and I mostly eat chicken or broccoli or eggs," he shared. Overall, he is mindful of her food choices and is pretty active, too. "I try to stop eating when I'm full, not eat a lot of carbs, load up on protein and vegetables, and I try to work out every day," Groff said.