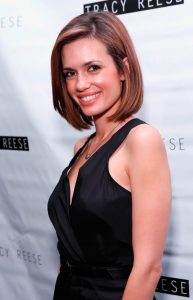 Hollywood actress Torrey DeVitto has built a successful career on television. She began acting on the small screen with guest roles. Her first recurring role was on Drake & Josh. She then made her big screen debut in Starcrossed. Her first lead role was in the film I'll Always Know What You Did Last Summer as Zoe Warner. Subsequently, she starred as Karen Kerr on the short-lived series Beautiful People. She also became known for her recurring role as Carrie on One Tree Hill. In the 2010s, she became known as Melissa Hastings on Pretty Little Liars and Dr. Meredith Fell The Vampire Diaries. She now stars as Dr. Natalie Manning on Chicago Med.
The television and film star practices a healthy diet. She actually practices a vegan diet, which makes her healthier. In an interview with People, the actress said: "The way I eat is a heavy statement on my belief system. I eat cruelty-free. It is my way of being able to take a stand against doing harm to any living creature." This enables her to completely enjoy her food, she added: "I eat for happiness, fuel and nourishment." Each day, Torrey consumes 60 oz. of water for hydration.
For breakfast, she usually has Venti iced coffee with a splash of coconut milk, quinoa flakes with berries and avocado and grilled berries. For snacks, she has Vega Nutritional protein shake with almond milk and an apple with almond butter and toasted hemp seeds. For lunch, she prefers getting quinoa mixed with veggies, chickpeas, sweet potatoes and almonds. This is followed by red and yellow peppers, cucumbers and celery and peanut-butter-cookie-dough flavored No Cow Bar for her afternoon snack. For dinner, she eats Thai pad see ew, a noodle dish with vegan beef and broccoli. For her dessert, she has 2-3 spoonfuls of Eat Pastry's vegan chocoholic chocolate-chip cookie dough.