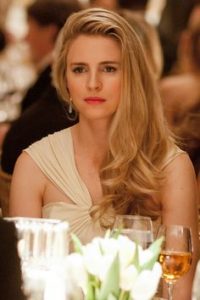 Actress and screenwriter Brit Marling started acting in the late 2000s. She debuted in the 2007 short film The Recordist. Her first movie role was in 2009's Political Disasters. In 2011, she starred in the psychological thriller film Sound of My Voice, which she also co-wrote and produced. She gained attention for her work as an actress and writer in this movie. She also received two Independent Spirit Award nominations – Best First Feature and Best Supporting Female. That same year, she starred as Rhoda Williams in the science-fiction drama Another Earth. For her performance, she won the San Diego Film Critics Society Award for Best Actress. She also served as the film's co-writer and producer.
In addition, she got Independent Spirit nominations for Independent Spirit Award for Best First Screenplay and Independent Spirit Award for Best First Feature. Also in 2011, she made her television debut in an episode of the comedy series Community. Afterward, she starred in the films Arbitrage and The Company You Keep. She resumed her screenwriting and producing role in the 2013 movie The East, which she also starred in. She later portrayed Nancy Lincoln in the film The Better Angels. In 2014, she starred in the films I Origins, The Keeping Room, and Posthumous. She also appeared as Liz Garvey on the British comedy series Babylon. In 2016, she started playing the lead role of Prairie Johnson/The OA on the Netflix series The OA. She also serves as the show's co-writer and producer.
The 36-year-old actress takes care of her body and overall health by sticking to a clean diet plan. Specifically, she now avoids consuming wheat because it made her sick in the past. "I stopped eating wheat, and I just never got sick anymore," she said in an interview. Her diet mainly consists of lean proteins, whole grains, and fruits and veggies. She does not deprive herself of food but she usually sticks with gluten-free foods.