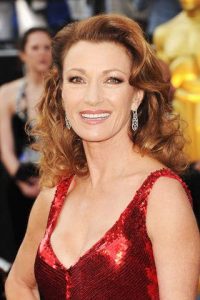 Hollywood actress Jane Seymour had her career start in the 1970s. During this period she had roles in the films The Only Way and Young Winston. She rose to fame for starring as Solitaire on the James Bond movie Live and Let Die in 1973. She next starred in the films Frankenstein: The True Story and Sinbad and the Eye of the Tiger. Her work on the miniseries Captains and the Kings gained her acclaim. In the 1980s, she starred in the features Somewhere in Time and La Révolution française. She later portrayed Wallis Simpson on the TV film The Woman He Loved. This got her a Golden Globe nomination. In the '90s, she was best known for her lead role on Dr. Quinn, Medicine Woman.
She may be in her late 60s, but Jane Seymour is one of few the actresses who can still rock in her bikinis despite her age. So, her fans wonder how she keeps in shape all these years? Getting older certainly takes a toll on someone's body, but the actress has defied the odds. How? Well, for starters, Jane doesn't eat junk or processed foods. She said about her eating choices: "I love berries and other antioxidant-rich foods. We always have fresh fruit and vegetables grown without pesticides. I rarely eat red meat; it's usually chicken or fish with lots of veggies."
On the other hand, she admits that she doesn't totally prohibit the consumption of carbs and other treats. She also knows how to indulge in her cravings every now and then. She just makes sure she eats them in moderation. She explained: "If I have pasta, I'll just eat half of it." But if there's one indulgence she allows herself to have whenever she wants, it's wine. She's fond of Californian wines specifically.