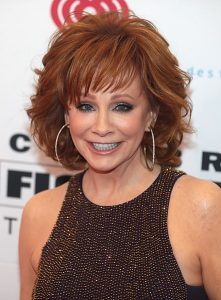 American country singer and actress Reba McEntire started her recording career in 1977 when she released her first solo album. Signed with Mercury Records at the time, she released five more albums under the label. She then signed with MCA Nashville Records. Her eight album, My Kind of Country, was released in 1984 with the hit songs "How Blue" and "Somebody Should Leave". The album marked her first commercial success.
The rest of the 1980s and 1990s saw her releasing more studio albums, which also garnered success and Number 1 singles. Also during the '90s, she started venturing into acting, for which she debuted in the film Tremors. She next had roles in the films Maverick, North, and The Little Rascals. She later portrayed Annie Oakley in the miniseries Buffalo Girls.
In the 2000s, she starred in her own sitcom Reba, which aired on The WB and The CW from 2001 to 2007. At the same time, she had voice roles in the movies Charlotte's Web and The Fox and the Hound 2. McEntire also starred in the film One Night at McCool's. In the 2010s, she starred as Reba McKenzie in the ABC sitcom Malibu Country. More recently, she had voice roles in the animated films The Land Before Time: Journey of the Brave and Spies in Disguise.
Reba McEntire stays in shape by sticking to a clean diet plan. Nonetheless, she admits to having weight fluctuations, especially when she indulges in her cravings. In order to make sure she stays fit and healthy, the singer-actress has since cut down on red meat and any other fatty foods.
"I'm aware of what I eat and if it's healthy or not. I've all but given up eating meat, opting more for chicken, fish and salads. When we do have meat, it's a grilled lean steak," said the country singer. "I'm also trying to eat foods high in calcium since I don't eat a lot of dairy products. I try to use broccoli in a lot of my cooking because of its overall goodness."