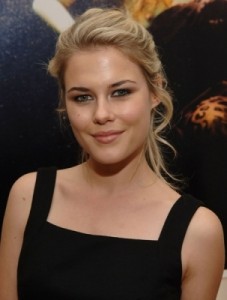 Australian actress Rachael Taylor began her acting journey in her native country in 2004 when she was in her 20s. After a year, she played her first starring role in the popular Australian series headLand. Soon after, she landed another starring role in her first American movie, the slasher feature See No Evil released in 2006. She went on to continue her work in Hollywood, landing a notable role in the box office hit Transformers in 2007. Her next movie was 2008's Shutter. Her career took off in the 2010s, landing more remarkable roles in well-known TV shows, first in Grey's Anatomy as a recurring character. She next played the leads in the short-lived shows 666 Park Avenue and Crisis. Then in 2014 she starred in The Loft. Prior to that, she had roles in a couple of movies, such as The Darkest Hour in 2011. Being unstoppable, Rachael now plays a starring role as Trish Walker in Netflix's Jessica Jones.
Standing at 5'8, the 31-year-old actress is getting further mainstream attention. With her appeal, curvaceous bod, and remarkable acting skills, she's definitely in for the long haul. Interestingly, she admitted that when she moved to Los Angeles, she also tried the diet fad in the city, which mainly consists of salads. She said in an interview: "I ate mostly salad and fresh air". Judging from the unbalanced diet, the actress suffered. Of the result, she said: "I looked dreadful. It just wasn't for me".
She had learned her lesson. In the present, her diet consists of wholesome food that she grew up eating. She, however, explained that different diets work for different people and that a diet filled with leafy veggies is not suitable for her. She's more into healthy carbs and eating sweets occasionally. Unlike other stars, Rachael is not too strict about the food she eats and appreciates having a shake from time to time.