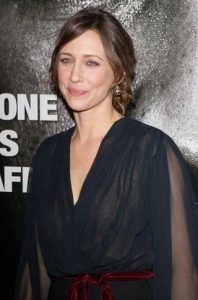 Hollywood star Vera Farmiga had her career beginnings in the mid-1990s. She made her screen debut as Catlin in the television series Roar. Her first movie role was in 1998's Return to Paradise. In the early 2000s, she had roles in the films The Opportunists, Autumn in New York, Dust, and Dummy. She then gained recognition for her performance in the film Down to the Bone. She also had a supporting role in the movie The Manchurian Candidate. She also starred in the short-lived shows UC: Undercover and Touching Evil, as well as played Ruza Wenclawska in the TV movie Iron Jawed Angels.
She later became known for her performances in The Boy in the Striped Pyjamas and Orphan. Her acting in the movie Up in the Air also gained her notice, earning her an Academy Award nomination for Best Supporting Actress. In the 2010s, she became widely known for portraying Lorraine Warren in The Conjuring and its sequel The Conjuring 2. She also played Norma Louise Bates in the show Bates Motel. Her work in Bates Motel also earned her a Primetime Emmy nomination for Best Actress. She will also star in the upcoming movie Godzilla: King of the Monsters.
Ever since becoming a mother, the actress has struggled with her weight. Just like other actresses, Vera also felt the pressure to regain her slender figure after having a baby. After giving birth, the actress was not able to get back to fitness because she needed to recover. She also couldn't follow a strict diet because she was nursing. These are the reasons why it took her much longer to shed her extra pounds.
Talking about it, she said: "It takes a lot to scootch me off my game, but [at 15 lbs. heavier than usual] it was the most insecure I'd ever felt." But how did she manage to overcome it? She said: "When people tell you that by the time you start filming, you gotta lose the fat off your face — well, the only way to get through that is to try to maintain a sense of humor." Normally though, the actress' diet consists primarily of nutritious foods, which include "fish, wild rice, quinoa, dark green vegetables, pecorino, sardines, lean meats, and beans".