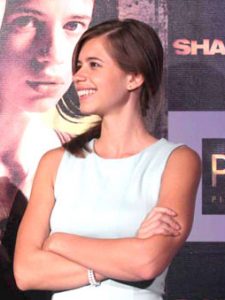 Indian celebrity Kalki Koechlin is known for her acting and writing contribution. In the late 2000s, she embarked on a film career, making her debut in Dev.D. She made a remarkable entry in Bollywood that she won the Filmfare Award for Best Supporting Actress. This paved the way for more acting jobs in the 2010s. This includes Zindagi Na Milegi Dobara and Yeh Jawaani Hai Deewani. Both were also box office hits, securing her fame. Both movies also got her nominated for Best Supporting Actress at the Filmfare. She was then credited the co-writer of the film That Girl in Yellow Boots where she also starred as the lead. Other films she starred in which became box office hits are Shanghai and Ek Thi Daayan.
The 32-year-old actress maintains a healthy and slim body through eating right and exercising. On the other hand, she does not exercise like many do. She doesn't go to the gym and does not have a personal trainer. She does it on her own, doing the basic stuff. She's fine with just being simply active and not being bound by strict fitness rules and routine. In an interview, she revealed: "I'm not fond of going to the gym and I don't have a personal trainer. I swim for an hour every day; I think it's the most balanced form of exercise. It keeps you lean without building up too much unnecessary muscle; it works on every muscle of your body."
She added: "I love sports like football and volleyball. Volleyball is a great sport; it's easy and
fun, especially when played on the beach.It's important to have variety in your workout routine, and I think there is no better workout routine than indulging in a sport. Playing sports is interactive, social and you don't feel like you're working out – it's about having fun." She also said that while she finds gym boring, she knows others are motivated by working out in a fitness center. Her advice is just to incorporate what's fun and what one loves in their workouts.