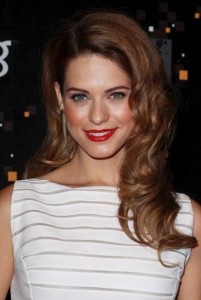 American star Lyndsy Fonseca has had her acting career with her since she was in her teens. Making her debut in the soap opera The Young and the Restless, for which she starred in for several years until she reached adulthood, she was able to continue her work as an actress on the small screen, landing great roles after her part on the soap had ended in 2005. First, she acted in a few made-for-television movies and then got recognized for her role in How I Met Your Mother, for which she portrayed recurrently from 2005 to 2014. The, she got another recurring role in the HBO series Big Love in 2006, followed by another remarkable performance in Desperate Housewives. It was, however, her starring role in Nikita from 2010 to 2013 that earned her many fans worldwide. It was also around the same time that she played the lead star's love interest in Kick-Ass in 2010. Her most recent film was 2015's The Escort. As for her present television credit, she plays a recurring character in Marvel's Agent Carter.
Standing at 5'5, the 29-year-old star is just as lovely as she can be. Her kick ass role in Nikita further showcased her beauty, talent, and even her strength as an actress. Because has played several notable roles on TV, Lyndsy is truly a star in her own right. The actress is also remarkably sexy, lean, and fit at the same time. From this we can conclude that she's not just a pretty face. She's a girl who can act, perform, and someone who can show off her physical and athletic traits. What's her diet secret?
Simple, just eating clean and healthy. Because she regularly works out, she needs to make sure that she loads her body up with nutritious foods. Working out wouldn't make any sense if you're not eating right and healthy. To ensure a balanced diet, she observes low carbs, high proteins, and healthy fats are incorporated into her diet. She typically relies on leafy veggies and other salads to fill her up, as well as foods rich in fiber. For her cravings, she makes sure she chooses snacks with low calories.