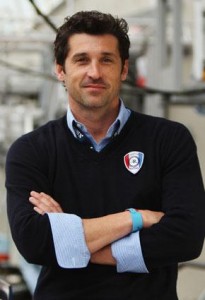 American actor and race car driver Patrick Dempsey stays in the loop of Hollywood's most attractive men despite turning 50 next year. He's had a prolific acting career since he was in his 20s, first gaining recognition for his roles in Can't Buy Me Love and Loverboy, both released in the late 1980s. During the 1990s, he landed smaller roles in such movies as Outbreak (1995) before making it big again in the surprise smash hit Sweet Home Alabama (2002). However, it was his role as Dr. Derek Shepherd in Grey's Anatomy that garnered him widespread recognition since he played the said character for ten years. While working on the show, Patrick also starred in a couple of films, including Freedom Writers, Enchanted, Made of Honor, Valentine's Day, and Transformers: Dark of the Moon. He will star in the upcoming romantic comedy Bridget Jones's Baby set to be released in 2016.
The 49-year-old celebrity is one of the few actors in Hollywood who still looks amazingly fit, healthy, and attractive, too, despite nearing his 50s. This alone makes his fans wonder what Patrick's secrets are that helps him with his looks and general well-being. As expected, the former Grey's Anatomy star exercises regularly, which has contributed a great deal in keeping him youthful. In an interview a few years back, he said: "Cycling has done tremendous for my psyche, to get out in nature, the speed of it and the agility and stamina needed. I do a lot of running and training."
Basically, he starts his workout routine by doing cardio exercises such as biking and jogging, both helping him to burn 300 to 600 calories per workout. Such combination is not only efficient for weight loss, it's also effective for weight maintenance. After doing cardio exercises, he engages in weight lifting for 2-3 hours daily. This is for building muscles and toning his overall physique. He mostly performs such routines with his personal trainer.