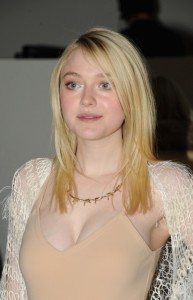 American actress Dakota Fanning began her fame as a little girl, most notably for playing Sean Penn's daughter in I Am Sam. Since then, Dakota has starring roles in numerous films, collaborating with A-list stars, such as in Uptown Girls, Man on Fire, Hide and Seek, and War of the Worlds, among others. She took fewer roles in the late 2000s, but returned as a teenager in The Twilight Saga: New Moon (2009). Proving she hasn't lost her knack for acting, she gave an amazing performance portraying musician Cherie Currie in The Runaways (2010). She has since starred in the Twilight sequels The Twilight Saga: Eclipse and The Twilight Saga: Breaking Dawn – Part 2. Most recently, she has starred in Very Good Girls, Effie, and The Benefactor.
Now 21, Dakota has surely grown up into a beautiful young woman people had envisioned her to be. Standing at 5'4, the former child star is also notably slim, just like when she was little. Of course, she has the body of a full-grown woman now but her slender physique is unchanged. But what does her diet plan looks like? Being in the acting industry since she was young, the actress revealed her eating habits have since adapted to her life on the road. A couple of years ago, she revealed she normally has her breakfast from the drive-thru on the way to the set, which typically consists of breaded chicken patty on a buttermilk biscuit.
She also admits that she's fond of drinking grapefruit juice. For lunch, she usually has fried chicken, collard greens, and macaroni and cheese. Just like any other young women, Dakota loves to snack by having some boiled peanuts along with nonalcoholic wine. For dinner, the actress admitted she usually eats out, but when she's at home, she likes to help her grandmother make tacos. In addition, she loves eating takeout orange chicken and chocolate fudge for dessert.