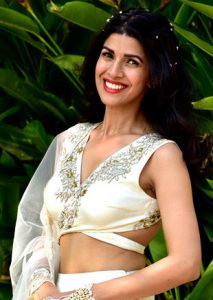 Indian actress Nimrat Kaur had her career beginnings in the mid-2000s. Initially, she worked as a print model and went on to perform in theater. She made her screen debut appearing in music videos. In 2005, she made her cinematic debut with a small role in the Hindi film Yahaan. The following year, Kaur made her Hollywood debut with an appearance in the movie One Night with the King.
Later in the 2010s, she had appearances in the Hindi films Peddlers and Luv Shuv Tey Chicken Khurana. She then starred in the 2013 Indian film The Lunchbox, which earned her IIFA and Screen Award nominations for Best Actress. After this, the actress landed the role of Tasneem Qureshi in Homeland, playing the role recurrently in Season 4 (2014). She returned this year as part of the show's main cast. In 2016, she starred in the Indian film Airlift. She simultaneously starred as Rebecca Yedlin in the Fox series Wayward Pines, joining the show's Season 2 main cast.
Nimrat Kaur stays in shape by being mindful of her diet. "I am not genetically blessed, so I do have to watch what I eat. And although I don't have a personal nutritionist, I am aware of what's good and what's bad, especially for my body type," said the actress. Her day begins with a cup of tea with jaggery. She's also cut back on sugar so she's very conscious about eating sweets. She also eats the right kinds of food before and after her workout routine.
"Pre-workout I have a fruit, and post-workout some oatmeal porridge with raisins and almonds soaked overnight as well as two or three egg whites," she shared. "Lunch and dinner has brown rice, some veggies and fish or chicken. In the evening, I tend to have either rusk with tea or coffee or an open-faced sandwich." Apart from avoiding sweets, the actress also stays away from eating bread as much as she could.