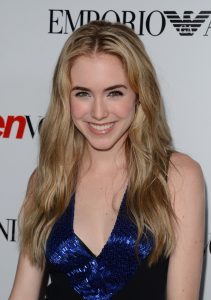 Hollywood star Spencer Locke has been acting since 2003. She first appeared as herself in the straight-to-video film Kidz Bop: Everyone's a Star! She next made her big screen debut with a small role in Spanglish. That same time, she had her first TV appearance in an episode of Without a Trace. Afterward, she played the recurring role of Bitsy Johnson on Ned's Declassified School Survival Guide, as well as played Candida Keegel on Phil of the Future.
In 2006, she lent her voice and played the role of Jenny Bennett in the animated film Monster House. She later became further known for playing the role of K-Mart in Resident Evil: Extinction in 2007. She reprised her role in the 2010 sequel Resident Evil: Afterlife. She also gained recognition for playing Kylie on Cougar Town. In the 2010s, she first starred as Sally Burnish on the short-lived series Twentysixmiles.
She next had one-time roles on such TV shows as The Vampire Diaries and Love Bites. She also starred in 2011's Detention, as well as played Jane Porter in the 2013 film Tarzan. More recently, she played Melissa Rainier in the horror film Insidious: The Last Key. She recently portrayed Amberley Snyder in the biopic Walk Ride Rodeo.
The actress maintains her lean figure by being mindful of what she eats. She now avoids fast food and other processed food as much as she could. Instead, she focuses on having fresh, clean foods. Her diet plan mainly consists of lean meat, whole grains, and fruits and vegetables. While she watches what she eats and practices portion control, she doesn't believe in extreme diets just to lose weight. She wants to keep it as natural and healthy as possible. For this reason, she chooses her meals well. She still indulges in her cravings every now and then. Some of her guilty pleasures are chocolate and ice cream.