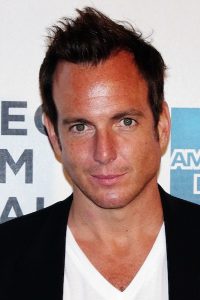 Hollywood actor Will Arnett debuted in the 1996 film Close Up. He next had roles in the films The Broken Giant and The Waiting Game. On television, he first appeared in an episode of Sex and the City in 1999. His first notable role was in The Mike O'Malley Show. In the 2000s, he garnered attention for his role as George Oscar "G.O.B." Bluth II in Arrested Development.
During this period, he also starred in the films Monster-in-Law, Wristcutters: A Love Story, Hot Rod, The Brothers Solomon, Semi-Pro, The Rocker, and Brief Interviews with Hideous Men. Back on TV, he also played a recurring character, Devon Banks, in 30 Rock. In the 2010s, he starred as Steve Wilde in Fox's Running Wilde, as well as co-starred in NBC's Up All Night. After this, he starred as Nathan Miller in the sitcom The Millers.
Arnett is also a prolific voice actor best known for playing the title role in the animated series BoJack Horseman, which went on from 2014 to 2020. He is also the voice of Bruce Wayne / Batman in The Lego Movie, The Lego Batman Movie, and The Lego Movie 2: The Second Part. Other live-action roles in the movies include Jonah Hex, Teenage Mutant Ninja Turtles and its sequel, and Show Dogs. As of 2017, he stars as Sam Keurig in the comedy series Hot Date.
Will Arnett keeps himself fit and strong by working out with consistency."I started taking my health seriously at 25 or 30. Before then, I was lean, no matter what I ate. As I got older, I was getting a little soft, so I started exercising regularly," said the actor. "Now I'm 48, and my kids, work, and life dictate how often I get to the gym. First, I walk 20 minutes on the treadmill, run for 20 more, then lift weights. I'm not trying to bulk up; I'm the guy you see lifting really light dumbbells, nothing heavier than 25 pounds."