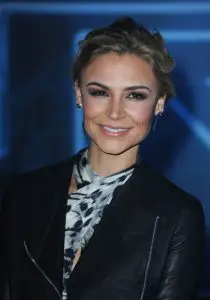 Hollywood star Samaire Armstrong had her career beginnings in the early 2000s. During her early works, she guest starred on television shows. This includes Party of Five, Freaks and Geeks, ER, and Judging Amy. Her first acting role on the big screen was in Not Another Teen Movie. Her first notable role was as Anna Stern on the TV series The O.C.. At the same time she had a recurring role as Emily on Entourage. She also played Juliet Darling on Dirty Sexy Money. In the late 2000s she has also starred in the films Stay Alive, Just My Luck, It's a Boy Girl Thing, and Rise: Blood Hunter. In the 2010s, she played Summer on The Mentalist and starred as Elaine Richards on the TV Resurrection. Her latest movie was 2015's Windsor Drive.
The 37-year-old actress sustains her slender figure and fit body by eating healthy and exercising regularly. By working out, she's able to improve her energy and mood at the same time. She also prevents her body from accumulating fats, maintaining her slim physique. In an interview, she said: "I've spent most of my life doing some sort of exercise, but I've learned to never push myself into doing it. I know that when I am up for it I will, and when I'm not in the mood to, I don't make myself feel badly over it."
In addition, Samaire has gymnastics training. So, that also helps her to maintain her fitness. As a matter of fact, her family runs a training center in Sedona, Arizona. She's also a sports fan, playing volleyball before. On the other hand, she admits she is not fond of running. But she's serious when it comes to working out. She said: "I will spend three months straight going to Bikram Yoga at 6:30 a.m., then the next three months hiking every afternoon. Pilates the next, and so on…".