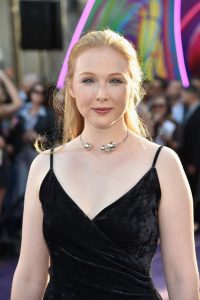 Hollywood star Molly Quinn started her career in 2006 when she appeared with a small role in the film Walk Hard: The Dewey Cox Story. Her next movie role was in 2009's My One and Only. It was also during this year that she began playing with what ultimately became her breakthrough, as Alexis Castle in the television series Castle. The series aired from 2009 to 2016. Running for several years, she became widely known among TV audiences.
While a regular on Castle, she also became active on the big screen. She had performances in the feature films Disney's A Christmas Carol and The First Time. She also played Princess Bloom in Nickelodeon's Winx Club: The Secret of the Lost Kingdom and its sequel Winx Club 3D: Magical Adventure. In 2013, she starred as Gretel in the movie Hansel & Gretel Get Baked. She also served as producer in the film.
That same year, she had a supporting role, playing Melissa in the comedy film We're the Millers. After this, she starred in the 2015 movie Welcome to Happiness. After Castle ended, she went on to have performances in the films Guardians of the Galaxy Vol. 2, Last Rampage, and Newly Single. Other credits include in the Disney Channel Original Movie Avalon High.
The actress not only follows a healthy diet plan by being a vegan, she also works out for her body's fitness and overall wellness. Her workout routine varies, depending on what she enjoys in the present. She also likes mixing things up to make sure she stays motivated throughout. Cardio, of course, is part of her regular exercise regimen.
Moreover, being an actress entails that she has an on the go lifestyle, which equates to lots of activities. Working on films and shows get her to physically prepare for certain roles. For instance, her regular stint on the TV show Castle pushed her to strengthen her body as some of her scenes required her to be physically stronger and agile.