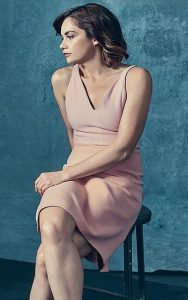 Now a television staple, English actress Ruth Wilson began acting on the British television. Her road to fame started on television. It was also on the small screen that she was significantly noticed for her portrayal of Jane Eyre on the BBC miniseries of the same name. For this she was nominated for a Golden Globe for Best Actress on a Miniseries or a Television Film. After this she starred on the British series Suburban Shootout.
In the next few years she starred in a number of TV movies, such as Small Island. She also starred in the miniseries The Prisoner. She continued her career in the 2010s by starring on the British program Luther. During this period she also began her film career. Her first movie was the period drama Anna Karenina. She next had roles in the movies The Lone Ranger and Saving Mr. Banks. She became more well-known for her starring role on the Showtime series The Affair.
She may be in her mid 30s, but the English actress looks stunning and slender. Now enjoying prominence thanks to her role on The Affair, for which she also won a Golden Globe for Best Actress. In an interview discussing her Broadway play, the actress revealed how eating was part of her pre-show ritual. She said: "We have a sort of ritual of "eat." Have a nap, warm up, and go. Lots of napping and lots of eating. I try not to stick to a specific routine."
This only means that she doesn't have a strict eating regimen. But how does she maintain her svelte figure? Aside from working out once in a while, she also eats healthy most of the time. She technically does not have a strict diet plan, but most of the foods she eats are healthy. She sticks to whole grains, lean protein and fruits and vegetables. She also always minds her portion of meals to avoid overeating. She snacks on something healthy, too, like nuts, yogurt and fruit shakes.