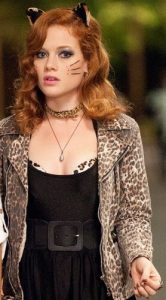 It was in the 2010s that Hollywood star Jane Levy began her career. Her debut was as Mandy Milkovich, a recurring character on the TV series Shameless. She then gained recognition for starring as Tessa Altman on the TV series Suburgatory. While on the show, she simultaneously appeared in the films Nobody Walks, Fun Size, Evil Dead, About Alex, and Bang Bang Baby. She next starred in the movies Frank and Cindy, Don't Breathe, and Monster Trucks. This year, she starred in the feature I Don't Feel at Home in This World Anymore. She will star on the upcoming web series Castle Rock.
The 28-year old actress stays in shape by making conscious efforts to lead a healthy lifestyle. Aside from eating healthily most of the time, she also makes sure she's physically active. She knows that a sedentary life isn't something that'll help her to maintain her fitness and overall health. In fact, being physically inactive can lead to unhealthy repercussions. So, she does the opposite. She moves a lot and plays sports whenever she can. She also goes out for outdoor activities to spend time with friends as spending time with people she's close with through activities isn't only a great workout, but is also good for her mind.
In the morning, whenever she has the time she does some cardio exercises at home. She also hits the gym whenever she has free time. She believes in practicing basic or simple steps when it comes to exercises, such as running or just as simple as taking a walk. Moreover, her reason for working out is not only to stay in shape but to also feel stronger. Exercising can help maintain her high energy levels, which she needs for her work as an actress. With her active way of living, Jane is able to stay slim and fit at the same time.