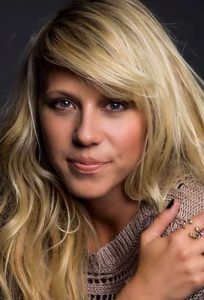 Actress Jodie Sweetin has been active in the show business since 1987. She debuted in an episode of the TV series The Hogan Family. Around this period, she achieved her major breakthrough after landing the part of Stephanie Tanner in the now hit sitcom Full House. Playing the role from 1987 to 1995, this gained her mainstream prominence. After the show ended, she had one-episode roles in such TV shows as The All-New Mickey Mouse Club and Brotherly Love.
She next appeared in 2 episodes of the family drama series Party of Five. As she continued her Hollywood career in the 2000s, she guest starred in Yes, Dear. She next hosted the TV program Pants-Off Dance-Off in 2007. Her next roles were in the independent films Redefining Love and Port City. In the 2010s, she had a main role on the short-lived series Can't Get Arrested. After this, she had roles in the made-for-television movies Singled Out and Defending Santa.
In 2015, she portrayed Charlotte Disney in the film Walt Before Mickey. She went on to reprise her role as Stephanie Tanner in the continuation of Full House, now titled Fuller House, starting in 2016. She simultaneously appeared in the reality show Dancing with the Stars as a contestant. She finished in the 6th place. Apart from her regular stint on Fuller House, she also currently stars as herself on the TV show Hollywood Darlings. More recently, she's starred in a couple of Hallmark TV movies.
The former child star takes care of her body and overall health by being mindful of what she eats. While it wasn't the case when she was younger, being in her late 30s has since taught her the importance of proper nutrition. Not only to lose weight but to also feel good from the inside out. Returning on the screen, eating healthily also helps her maintain her high energy levels.
For starters, Sweetin prefers homemade meals. This ensures that all ingredients used for her meals are fresh and healthy. It is said that the actress enjoys "veggie omelet, low-calorie muffins, a breakfast burrito, granola cereal or whole grain cereal" for breakfast. For lunch and dinner, it's mostly protein-rich foods like fish or chicken and rice with lots of veggies. Even her snacks are healthy ones. She mostly has fruits. Once in a while, she indulges in her cravings, which are fries and Cuban espressos.