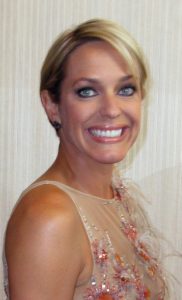 American actress Arianne Zucker had her career beginnings in 1998, debuting as Nicole Walker in the soap opera Days of Our Lives. She stayed on the program until 2006. At the same time, she made her feature film debut in 2001's Looking for Bobby D. She next guest-starred in an episode of CSI: Miami. Zucker returned to Days of Our Lives in 2008. She later had a performance in the film The Last Resort. Later in 2013, she had a role in the direct-to-video film The Contractor.
Zucker also simultaneously starred in several made-for-television films, including Killer Assistant, Ex-Wife Killer, Web Cam Girls, Mommy Be Mine, and Babysitter's Nightmare. She also appeared in an episode of DeVanity. Moreover, the actress has since been commended for her performance in Days of Our Lives. She first won the Outstanding Villainess Award at the Soap Opera Digest Awards in 2001. In 2010 and 2013, she was nominated for Outstanding Supporting Actress in a Drama Series at the Daytime Emmys. She also received an Outstanding Lead Actress in a Drama Series nomination at the 2014 Daytime Emmy Awards.
Arianne Zucker maintains a healthy body by eating a balanced diet. She doesn't necessarily follow any strict diets but she tries to be conscious of the food she eats. She's also very active in her lifestyle, specifically with her workout routine. "I want to stay lean and trim, and not to skip weight training because I don't have the time!" said the actress. "My goal is to do a full workout at the gym two days a week and hike another two days for cardio. I'm also making it a priority not to stress out if I can't reach that goal every single week. Guilt is a waste of time!" she added.